November 25, 2018) –
US RaceTronics' AM driver Damon Ockey, who finished fifth in Saturday's AM World Final, won the second race of the 2018 Lamborghini World Finals Sunday morning at the Vallelunga circuit just outside of Rome, Italy. The Calgary native started the day in the No. 109 Lamborghini of Calgary on the pole and drove a flawless race to hold off an extremely competitive field. Meanwhile, teammate Brian Thienes developed electrical issues in the No. 117 Thienes Engineering Lamborghini of Beverly Hills midway through Saturday's race and was unable to start Sunday's race. The Pro duo of Edoardo Piscopo and Taylor Proto also had a tough pair of World Finals races, finishing mid-pack both days in the No. 150 Lamborghini of Beverly Hills.
Saturday started with an incident between the No. 117 and the No. 109 AM cars during qualifying for race one. Both cars sustained minor damage but were able to compete in qualifying for race two with Ockey earning pole-position. The Pro cars qualified shortly after the AM cars with Taylor Proto behind the wheel for race one qualifying and Edoardo Piscopo handling qualifying for race two. Both drivers just missed earning top-ten spots on the grid in an intensely competitive field comprised of cars from North America, Asia and Europe.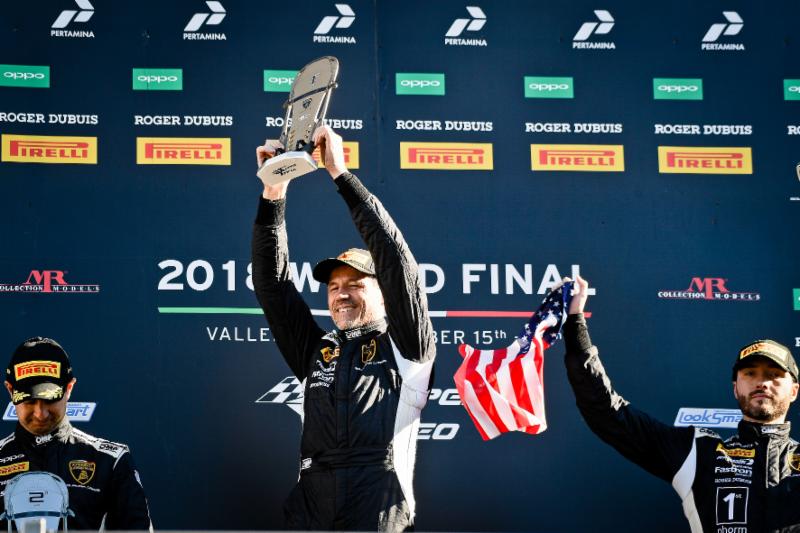 Ockey started P5 for the first of the two World Finals races Saturday afternoon, but moved up to fourth-place several laps into the race. He held that position until late in the race. He ultimately finished in fifth-place and still in contention for the World Finals Championship. Ockey's win on Sunday catapulted the team's top-finishing driver into third-place in the AM World Finals.
"This race was a great way to end the season," Ockey said after race two. "We won the race, pole to flag, so that was great. I had a great battle with Ryan (Hardwick) and with the No. 69 European car. We were all about the same pace, but I was able to keep them behind me. I was quicker in the first two sectors and they were quicker in the last two sectors, so that evened things out. It's been a great season. The team has been great to work with and the car's been awesome. Teammates have been great, other than Brian hitting me yesterday, but yeah, it's been really good."
Ockey's teammate and AM competitor, Brian Thienes, had a bit tougher time over the course of the two-day World Finals. Theines was running near the front of the field after his sixth-place start in race one but developed issues with the power-steering in his Lamborghini Huracan Evo after the mandatory pit-stop. He would ultimately finish 15th. His crew was able to get the car repaired before leaving the track Saturday night but only moments before heading out to the grid the car began experiencing electrical issues that were not able to be fixed in time for the start of race two. Thienes was understandably disappointed with the way the weekend ended.
"I'm obviously disappointed that I wasn't able to race the final race of the season," Thienes said. "We thought we had the issue from Saturday's incident fixed, but just before we were getting ready to go to the grid the car started having electrical issues again. I want to thank Shane and the entire US RaceTronics team for a great season. This isn't how we wanted to end it, but overall it was a great year."
Pro drivers Taylor Proto and Edoardo Piscopo weren't able to find clear track for their qualifying sessions which left them to start 11th on the grid for race one and 12th for race two. Proto started race one but was spun in the opening lap and dropped back to 19th. He was able to battle back to 15th before being spun a second time. Piscopo drove a strong second-stint but was unable to overcome the lap lost in the earlier incidents.
Race two wasn't much easier for the pair. Piscopo was able to move up a couple of spots early in the race before handing the car over to Proto who came out of the pit stop in 10th position. Taylor was doing a great job battling an aggressive field of racers until being spun by the No. 72 with just a few laps left in the race. The duo would ultimately finish 15th.
"It was a good mid-field battle," Proto said after race two. "We had a good time. Edoardo made up some good positions on the start but unfortunately, I got caught up behind a slower car. Even with a 20-second penalty the driver didn't feel the need to move aside or make any pass easy; even going as far as spinning me in turn 8. I caught back up to him but unfortunately, I ended up tapping him going into the slow turn-pin and he lost some time too. But, all-in-all it's been an amazing learning experience. It's been a great farewell for Super Trofeo and it's a very valuable lesson for what's coming up in the next couple of years."
"It was not the weekend we were expecting," Piscopo added. "We've struggled since free practice and couldn't find the right pace, so we knew it was going to be hard for the World Finals. But, we gave it our all. I'm really proud of Taylor and the team, because we fought until the last lap. Overall it was an exciting year of Super Trofeo."
Team owner Shane Seneviratne was looking for better results coming to Italy but was satisfied with the weekend as a whole.
"Overall I would say that it was a good weekend," Seneviratne said. "The highlight of the weekend was Damon winning the second race of the World Finals. That made for a good and happy ending to our weekend. We came here hoping for a little bit better results, but it was tough competition. We needed a little bit of luck to win some of the championships and we needed a few more competitors to be in between us and the other championship contenders. With the limited number of entries in the class, it kind of hurt us. If there had been a few more cars to compete with I think we would have had a little bit better shot. I'm excited and looking forward to next year already. This was a great event. Lamborghini did a pretty awesome job and the circuit did an awesome job as well. It was fun and exciting, and it was great racing. I want to thank all the crew members for all their hard work this year and all the drivers for their great drives and good efforts. I'm looking forward to having some of them back next year and looking forward to starting next season at Barber Motorsports Park in April."
The team will announce next season's Lamborghini Super Trofeo lineup in early 2019.